Ava Gardner Biography
Date of Birth
24 December 1922, Grabtown, North Carolina, USA
Date of Death
25 January 1990, Westminster, London, England, UK (bronchial pneumonia)
Birth Name
Ava Lavinia Gardner
Nickname
Snowdrop
Angel
Height
5' 6" (1.68 m)
Mini Biography
Born on a tobacco farm, where she got her lifelong love of earthy language and going barefoot, Ava grew up in the rural South. At age 18, her picture in the window of her brother-in- law's New York photo studio brought her to the attention of MGM, leading quickly to Hollywood and a film contract based strictly on her beauty. With zero acting experience, her first 17 film roles, 1942-5, were one-line bits or little better. After her first starring role in B-grade Whistle Stop (1946), MGM loaned her to Universal for her first outstanding film, The Killers (1946). Few of her best films were made at MGM which, keeping her under contract for 17 years, used her popularity to sell many mediocre films. Perhaps as a result, she never believed in her own acting ability, but her latent talent shone brightly when brought out by a superior director, as with John Ford in Mogambo (1953) and George Cukor in Bhowani Junction (1956). After 3 failed marriages, dissatisfaction with Hollywood life prompted Ava to move to Spain in 1955; most of her subsequent films were made abroad. By this time, stardom had made the country girl a cosmopolitan, but she never overcame a deep insecurity about acting and life in the spotlight. Her last quality starring film role was in The Night of the Iguana (1964), her later work being (as she said) strictly "for the loot". In 1968, tax trouble in Spain prompted a move to London, where she spent her last 22 years in reasonable comfort. Her film career did not bring her great fulfillment, but her looks may have made it inevitable; many fans still consider her the most beautiful actress in Hollywood history.
IMDb Mini Biography By: Rod Crawford <puffinus@u.washington.edu>
Spouse
Frank Sinatra

(7 November 1951 - 5 July 1957) (divorced)
Artie Shaw

(17 October 1945 - 25 October 1946) (divorced)
Mickey Rooney

(10 January 1942 - 21 May 1943) (divorced)
Trivia
Chosen by Empire magazine as one of the 100 Sexiest Stars in film history (#68). [1995]
Her singing voice in Show Boat (1951) was dubbed by Annette Warren, although her voice is left in on the soundtrack album.
Her mother, Mary Elizabeth ('Molly') Gardner, née Baker, was of Scottish-Irish and English descent; her father, Jonas Bailey Gardner, was of Irish and Native American (Tuscarora) descent, a tobacco farmer who died of bronchitis in 1935.
Youngest of seven children, her older siblings were Raymond, Melvin ('Jack'), Beatrice ('Bappie'), Elsie Mae, Inez and Myra.
Her early education was sketchy; by 1945, she had read two books, the Bible and "Gone with the Wind." In later life, she more than made up for this lack by continual self-education.
She sang in her own voice for The Killers (1946) but in all MGM films her singing voice was dubbed (much to her disgust).
Flamenco became one of Ava's favorite pastimes after she learned it for The Barefoot Contessa (1954); increasingly proficient and needing little sleep, she often danced all night.
In a promotion for The Little Hut (1957), a small island in Fiji was renamed Ava Ava and leased to a contest winner.
She was continuously under contract at MGM, 1941-1958.
There is an Ava Gardner Museum of memorabilia in Smithfield, North Carolina.
She spent her final years as a recluse in her London apartment -- her only companions were her longtime housekeeper Carmen Vargas and her beloved Welsh Corgi, Morgan. Two strokes in 1986 left her partially paralyzed and bedridden. Although Gardner could easily afford her medical expenses, Sinatra wanted to pay for her to visit a specialist in the U.S., and she allowed him to make the arrangements for a medically-staffed private plane. Her last words (to her housekeeper Carmen), were, "I'm so tired", before she died of pneumonia at the age of 67. Vargas took her body home to her native North Carolina for private burial. None of her ex-husbands attended.
After her death in 1990, Ava's longtime housekeeper, Carmen Vargas, and her dog, a Welsh Corgi named Morgan, were taken in by her former co-star Gregory Peck.
Once met J.R.R. Tolkien and neither knew why the other was famous.
Ex-daughter-in-law of Joe Yule (Mickey Rooney's father).
Was a good friend of Lena Horne, despite the fact that they both competed for the part of Julie in Show Boat (1951).
When shooting Earthquake (1974), she surprised director Mark Robson by insisting that she do her own stuntwork, which included dodging blocks of concrete and heavy steel pipes.
A statue of her from The Barefoot Contessa (1954) was given to Frank Sinatra as a gift. He kept it in his backyard garden well after their divorce. When he married Barbara Marx, she forced him to get rid of it.
During the first two years of her marriage to Frank Sinatra, he was at the lowest point of his career. She often had to lend him money so he could buy presents for his children. He was so broke by 1951 that Gardner had to pay for his plane ticket so that he could accompany her to Africa, where she was shooting Mogambo (1953). This all changed after he won his Best Supporting Actor Oscar for his performance in the 1953 film From Here to Eternity (1953).
Part of On the Beach (1959) was filmed in Berwick, a suburb of Melbourne. Ava had a street which was being developed at the time named after her. It is of course called "Gardner Street".
Once named "The World's Most Beautiful Animal" (in a 1950s publicity campaign).
Chosen by the American Film Institute as one of the greatest American female screen legends (Number 25).
Although she often gave the name of her North Carolina hometown as Grabtown, and at other times as Smithfield, the town's name is actually Brogden. "Grabtown" is a nickname given to it by locals. Smithfield is a larger town nearby.
Is portrayed by Deborah Kara Unger in The Rat Pack (1998) (TV), by Christine Andreas in Love and Betrayal: The Mia Farrow Story (1995) (TV), and by Jon Mack in Introducing Dorothy Dandridge (1999) (TV).
Frank Sinatra nicknamed her "Angel".
Appeared in three films based on Ernest Hemingway stories--The Sun Also Rises (1957), The Snows of Kilimanjaro (1952), and The Killers (1946).
During her final years living in London, she became the dinner companion of director Michael Winner.
While living in Spain, became a good friend of writer Ernest Hemingway, whom she and others called Papa. Both were aficionados of bullfighting.
An Australian reporter found that Gardner was quite adept at foul language, and her swearing was "like a sailor and a truck driver were having a competition." She threw a glass of champagne at the reporter, who said that at the moment she did so "the only thing I could think was how bloody gorgeous the woman was.".
Production designer John Hawkesworth, an Englishman who was the set-dresser on her starring vehicle Pandora and the Flying Dutchman (1951), said of Gardner that she "could eat twice as much as anyone and drink three times as much.".
Her three husbands were married a total of twenty times between them.
While pregnant with Frank Sinatra's child, she had an abortion because Sinatra was still married to his first wife.
Her The Angel Wore Red (1960) co-star Dirk Bogarde nicknamed her "Snowdrop" because, he said, anything less likely was difficult to imagine.
A distant cousin of Mary Elizabeth Winstead.
Biography in: "The Scribner Encyclopedia of American Lives." Volume Two, 1986-1990, pages 319-321. New York: Charles Scribner's Sons, 1999.
In Italy, most of her films were dubbed by Rosetta Calavetta. She was occasionally dubbed by Dhia Cristiani, Lidia Simoneschi and Andreina Pagnani.
Suffered from a severe case of emphysema in later life and could not travel far without an oxygen tank.
When her first husband, Mickey Rooney, brought his hugely successful musical "Sugar Babies" to London in the late 1980s, Gardner confessed to him that she had contemplated suicide after being left partially paralyzed by two strokes in 1986.
Frank Sinatra bought her a puppy for her birthday during their courtship, a Corgi she named Rags. For the rest of her life she always had a Corgi with her. After Rags died, she had Cara and then Morgan.
She and Robert Taylor had a brief love affair during the filming of The Bribe (1949).
Became pregnant twice by Frank Sinatra during their marriage; both times she had abortions.
Underwent a hysterectomy in 1968 out of fear of contracting uterine cancer, which had previously claimed her mother's life.
Good friend of Kathryn Grayson.
London neighbor and close friend of Charles Gray.
Charlton Heston revealed that Gardner behaved badly during the troubled shoot of 55 Days At Peking (1963) in his autobiography "In The Arena", such as bringing production to a halt when a Chinese extra took her picture without permission. Heston further claimed that Gardner's character was killed off simply so that the producers would no longer have to deal with her.
Personal Quotes
All I ever got out of any of my marriages was the two years Artie Shaw financed on an analyst's couch.
I have only one rule in acting -- trust the director and give him heart and soul.
When I lose my temper, honey, you can't find it any place.
I don't understand people who like to work and talk about it like it was some sort of goddamn duty. Doing nothing feels like floating on warm water to me. Delightful, perfect.
I must have seen more sunrises than any other actress in the history of Hollywood.
I haven't taken an overdose of sleeping pills and called my agent. I haven't been in jail, and I don't go running to the psychiatrist every two minutes. That's something of an accomplishment these days.
Nobody ever called it an intellectual profession.
I couldn't imagine a better place [Melbourne, Australia] for making a film on the end of the world.
Deep down, I'm pretty superficial.
After my screen test, the director clapped his hands gleefully and yelled, "She can't talk! She can't act! She's sensational!"
Everybody kisses everybody else in this crummy business all the time. It's the kissiest business in the world.
What's the point? My face, shall we say, looks lived in.
I made it as a star dressed, and if it ain't dressed, I don't want it.
I wish to live until 150 years old but the day I die, I wish it to be with a cigarette in one hand and a glass of whiskey in the other.
[in 1985, on why she came out of retirement to appear on a prime-time soap opera] "For the loot, honey, for the loot.
What I'd really like to say about stardom is that it gave me everything I never wanted.
Maybe I just didn't have the temperament for stardom. I'll never forget seeing Bette Davis at the Hilton in Madrid. I went up to her and said, "Miss Davis, I'm Ava Gardner and I'm a great fan of yours." And do you know, she behaved exactly as I wanted her to behave. "Of course you are, my dear," she said. "Of course you are." And she swept on. Now that's a star.
Although no one believes me, I have always been a country girl and still have a country girl's values.
(on Robert Taylor) I knew him as a warm, generous, intelligent human being. Our love affair lasted three, maybe four months. A magical little interlude. I've never forgotten those few hidden months. I think Bob, despite all his efforts, couldn't break the mold of the beautiful lover. The film world remembers him that way, and I have to say that I do, too.
I can't bear to face a camera. But I never brought anything to this business and I have no respect for acting. Maybe if I had learned something it would be different. But I never did anything to be proud of.
[when asked if her time at MGM had been any fun at all] Christ, after seventeen years of slavery, you can ask that question? I hated it, honey. I mean, I'm not exactly stupid or without feeling, and they tried to sell me like a prize hog.
[on her career] Christ, what did I ever do worth talking about? Every time I tried to act, they stepped on me. That's why it's such a goddamn shame, I've been a movie star for twenty-five years and I've got nothing, nothing, to show for it.
I really had very little to contribute, so I played a lot of hatcheck girls, and did mob scenes, extra scenes, dancing scenes, just to have the experience of being on a set. I spent years at that. If the studio wanted a photograph to advertise a film they'd say, 'Who is it that has a good pair of legs and a good pair of breasts and is pretty and not working?' And it was always Ava because she was never working.
[on her first screen test] There wasn't a thing that I could do. I couldn't act - I was the first to be eliminated in high school plays. I had no training whatsoever. I was just a pretty little girl. But I loved the idea, because I loved movies.
Ava Gardner
Ava Gardner
Ava Gardner
Ava Gardner
Ava Gardner
Ava Gardner
Ava Gardner
Ava Gardner
Ava Gardner
Ava Gardner
Ava Gardner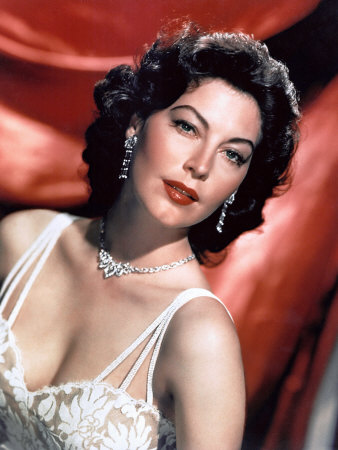 Ava Gardner
Ava Gardner
Ava Gardner
Ava Gardner
Ava Gardner
Ava Gardner
Movie Legends - Ava Gardner
Ava Gardner - Videoclipe
Ava Gardner: A Face Like No Others
Ava Gardner Sings "Bill"